Residential Services
Nate's Landscape prioritizes your unique needs.
Our residential lawn care goal is your highest satisfaction because great customers, like great yards, are for life.
Click here for our Gold, Silver, and Bronze Packages!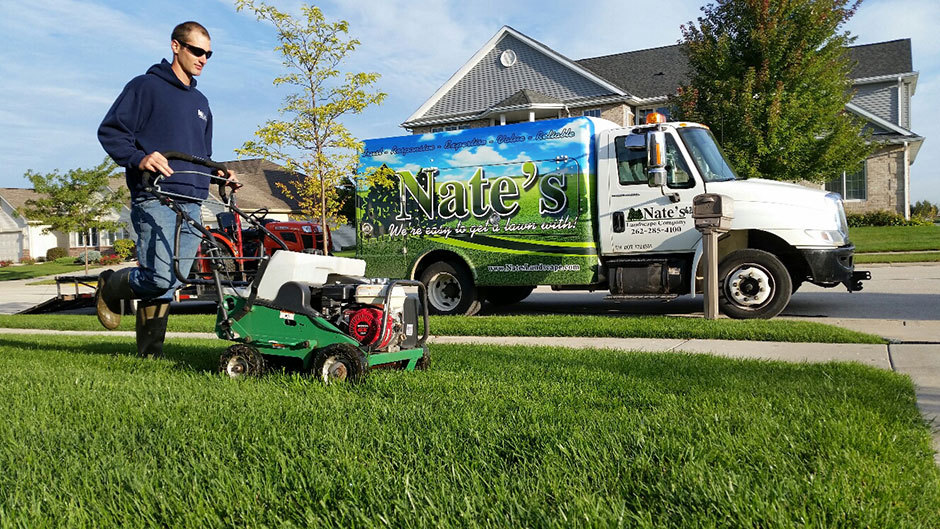 Lawn Mowing
Weekly lawn mowing and trimming are offered to residential customers. Lawn mowing is generally scheduled weekly starting in April and ending in November. Lawn mowing services include: mowing, trimming, and blowing off driveways and sidewalks.
---
Lawn Core Aeration
Core aeration is where plugs of soil are removed from your lawn giving space for roots to spread as well as water and nutrients to be absorbed. The plugs are left on the lawn to decompose and release nutrients back into the soil.
---
Perimeter Insect Control
Perimeter insect control is done three times per season -  spring, summer and fall. Liquid is applied to the perimeter of the home at the same time as a lawn application. In addition to insects, it also works great for spiders.
---
Lawn Insect Control
Lawn insect control is done as needed. It is a granular applied to the lawn. This product is generally used to control ants, cinch bugs, sod webworms, and other insects.
---
Mulch
The following colors are available for delivery:
Dark chocolate
Light chocolate
Double ground hardwood
Cedar
Play chips
---
Lawn Over-Seeding
Over-seeding can be applied to thin lawns to ensure thick proper growth during summer months. Over-seeding can fill in problem areas and rejuvenate a tired lawn. 
---
Bed Maintenance
Bed maintenance is generally scheduled weekly, bi-weekly or monthly. All beds can be hand weeded, spot sprayed and edged. Timely, selective pruning is also generally provided with this service. All accumulated debris is collected and hauled off site.
---
State Required Information:
Before we apply any pesticides to your property, we will provide you with any of the following information that you request, the common chemical or brand name of each pesticide that may be applied, and a copy of the pesticide label for each pesticide that may be applied. The label will tell you the pesticide's active ingredient, use directions and safety precautions, each date on which pesticides will be applied and a contact name, address and telephone number where you can obtain further information about the pesticide application. If you have selected an organic package you will not be receiving any pesticide applications unless otherwise noted.